This website is a tribute to the late Brian Taylor FRBS FSPS
22nd December 1935 – 21st of March 2013
He leaves the legacy of his life's work to his family.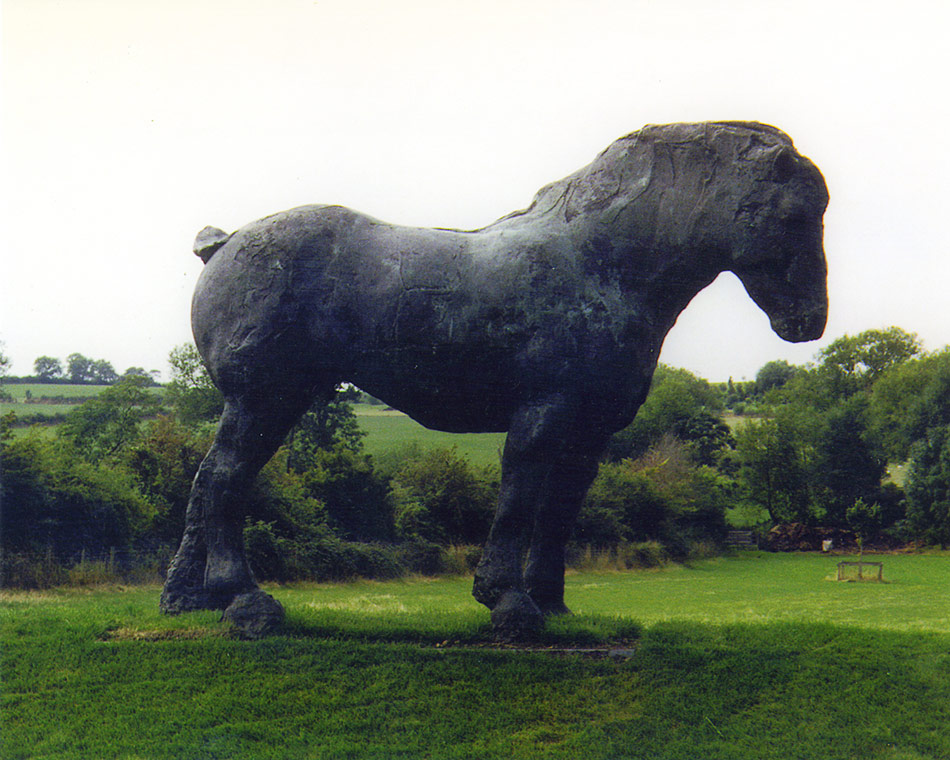 Obituary, by Richard Cork
The Guardian , 2nd April 2013
The sculptor Brian Taylor, who has died of liver cancer aged 77, was particularly fascinated by the study of human and animal forms. In 1956, when he was a student at the Slade School of Art in London, he produced a life-size portrait of Cissie, a closely observed head of his mother. Seen with her hair in curlers, Cissie is portrayed with frank, clear eyed affection. And over half Century later, Taylor was still energetically engaged in modelling heads of his wife, Michele, their daughter, Belle, and his mother in law Beverly.
Born into a working class family in Cheam, Surrey, he became obsessed as a child by natural history. Perpetually drawing while reading library books, he was encouraged by his art teacher at school. Then he joined his cousin, the painter Terry Setch, at Sutton and Cheam School of Art (50–52). Taylor remembered it later as "Paradise", but his emotional involvement with an older woman became so traumatic that he attempted to take his own life. For nine months he was committed to Netherne hospital where he found the treatment both," strange and stimulating." Fortunately part of his therapy involved drawing and painting, and in 1953 he gained a place at Epsom and Ewell School of Art.
The following year Taylor's linocuts were included in an exhibition at Zwemmer's Gallery, London. Still only 18 he was fascinated by Dostoevsky and such doom laden mythological themes as The Four Horsemen of the Apocalypse.
But at Epsom, Taylor started to work more from the observed world focusing on "the study of people; their psychology, character and way of life." He was learning how to escape from gloomy introspection and look outwards.
After entering the Slade in 1954, he was encouraged by Henry Moore on his visits to the school. They shared an admiration for early sculpture, which Taylor studied at the British Museum.
In 1958 his life-size clay nude boy from Boy from Anyigua won him a three-year scholarship to Rome. Italian art proved a revelation, from the ancient Belvedere Torso to the early modernist sculpture by Medardo Rosso. Anthony Blunt, the director of the Courtauld Institute, gave Taylor a tall block of travertine marble, from which he made his first direct carving, a life-size image called Jeff based on a man pulling off his shirt. Executed in a loose, free style, it contrasts with the more naturalistic portrait heads he produced soon afterwards. In 1960 they were included in his first solo show, in Rome. After his scholarship ended, Taylor stayed on, working as a studio assistant for Emilio Greco and other sculptors.
Soon after Taylor returned to Britain in 1963, his Slade contemporary Paul de Monchaux invited him to join a new department at Camberwell School of Art, south London. He taught there from 1965 until 1984, becoming deputy head of sculpture and keeping alive his passionate belief in the prime importance of drawing and life-room study.
For a while, his own work explored themes of mental instability, based either on characters from Alice in Wonderland or his first-hand study of distressed homeless people. Taylor's bronze The Dance of Lily Pier – a former student to Camberwell who would be "crying and screaming most of the time "– is among his most powerful and disturbing works.
After completing it in 1971, he visited the Serra di Burano,between the Italian regions of Umbria and Le Marche. There he encountered a rare breed of giant horse. Impressed by its muscular strength and prodigious lung capacity, which enabled it to run while pulling a heavy cart, Taylor decided to make a life-size model of it. Although" it would try to bite me if I came within range", Taylor splashed wet clay on the animal's nose and "during the 10 or so minutes that it spent licking the mud off its nose, I was able to nip in and take close measurements and observations of its head and front parts without being killed! "
In 1972 Taylor made a monumental bronze called Burano Horse, inspired by one of the animals he found in the valley of Santa Maria di Burano. Taylor fell in love with the area, staying with peasant farmers, who lived near the small parish church of Sansepolcro. Over the next two decades he planned a multipart sculpture with animals and figures "as a celebration of the beauty of the Burano valley and its community " incorporating the church and inspired as well by Piero della Francesca.The darker side of his imagination prompted him to plan a far more disturbing work, the Death Cart, attempting to portray" the death that is in life." Though he continued to work on it for the rest of his own life, he completed only a few figures for it.
In 1998 Taylor was elected a Fellow member of the Society of Portrait Sculptors and made a Fellow of the Royal Society of British Sculptors. The following year a retrospective exhibition, Sculpting from Life was held at The Gallery in Cork Street, London: at The Society of Portrait Sculptors' annual show there next month Taylor's achievement will be recognised with the Jean Masson Davidson award.
He is survived by Michele, whom he married in 1988 and their children Belle, Dashiell and Gabriel.
•Brian Taylor, sculptor, born 22nd December 1935; died 21st of March 2013.